Life and death of Adolf Hitler, the facts
Who was Adolf Hitler? Adolf Hitler (20 April 1889 - 30 April 1945) was a German politician and leader of the Nazi Party (Nationalsozialistische Deutsche Arbeiterpartei or NSDAP). He rose to power as the chancellor of Germany in 1933 and then as Führer in 1934. During his dictatorship from 1933 to 1945, he initiated World War II in Europe by invading Poland on 1 September 1939. He was closely involved in military operations throughout the war and was central to the perpetration of the Holocaust.
Hitler was born in Austria (then part of Austria-Hungary) and was raised near Linz. He moved to Germany in 1913 and was decorated during his service in the German Army in World War I. In 1919, he joined the German Workers' Party (DAP), the precursor of the NSDAP, and was appointed leader of the NSDAP in 1921. In 1923, he attempted to seize power in a failed coup in Munich and was imprisoned. In jail, he dictated the first volume of his autobiography and political manifesto Mein Kampf ("My Struggle"). After his release in 1924, Hitler gained popular support by attacking the Treaty of Versailles and promoting Pan-Germanism, anti-semitism and anti-communism with charismatic oratory and Nazi propaganda. He frequently denounced international capitalism and communism as part of a Jewish conspiracy.
By November 1932, the Nazi Party had the most seats in the German Reichstag but did not have a majority. As a result, no party was able to form a majority parliamentary coalition in support of a candidate for chancellor. Former chancellor Franz von Papen and other conservative leaders persuaded President Paul von Hindenburg to appoint Hitler as chancellor on 30 January 1933. Shortly after, the Reichstag passed the Enabling Act of 1933 which began the process of transforming the Weimar Republic into Nazi Germany, a one-party dictatorship based on the totalitarian and autocratic ideology of National Socialism. Hitler aimed to eliminate Jews from Germany and establish a New Order to counter what he saw as the injustice of the post-World War I international order dominated by Britain and France. His first six years in power resulted in rapid economic recovery from the Great Depression, the abrogation of restrictions imposed on Germany after World War I, and the annexation of territories inhabited by millions of ethnic Germans, which gave him significant popular support.
Hitler sought Lebensraum ("living space") for the German people in Eastern Europe, and his aggressive foreign policy is considered the primary cause of World War II in Europe. He directed large-scale rearmament and, on 1 September 1939, invaded Poland, resulting in Britain and France declaring war on Germany. In June 1941, Hitler ordered an invasion of the Soviet Union. By the end of 1941, German forces and the European Axis powers occupied most of Europe and North Africa. These gains were gradually reversed after 1941, and in 1945 the Allied armies defeated the German army. On 29 April 1945, he married his longtime lover Eva Braun. Less than two days later, the couple committed suicide to avoid capture by the Soviet Red Army. Their corpses were burned.
Under Hitler's leadership and racially motivated ideology, the Nazi regime was responsible for the genocide of at least 5.5 million Jews and millions of other victims whom he and his followers deemed Untermenschen (subhumans) or socially undesirable. Hitler and the Nazi regime were also responsible for the killing of an estimated 19.3 million civilians and prisoners of war. In addition, 28.7 million soldiers and civilians died as a result of military action in the European theatre. The number of civilians killed during World War II was unprecedented in warfare, and the casualties constitute the deadliest conflict in history.
World War II
In August 1914, at the outbreak of World War I, Hitler was living in Munich and voluntarily enlisted in the Bavarian Army. According to a 1924 report by the Bavarian authorities, allowing Hitler to serve was almost certainly an administrative error, since as an Austrian citizen, he should have been returned to Austria. Posted to the Bavarian Reserve Infantry Regiment 16, 1st Company of the List Regiment he served as a dispatch runner on the Western Front in France and Belgium, spending nearly half his time at the regimental headquarters in Fournes-en-Weppes, well behind the front lines. He was present at the First Battle of Ypres, the Battle of the Somme, the Battle of Arras, and the Battle of Passchendaele, and was wounded at the Somme. He was decorated for bravery, receiving the Iron Cross, Second Class, in 1914. On a recommendation by Lieutenant Hugo Gutmann, Hitler's Jewish superior, he received the Iron Cross, First Class on 4 August 1918, a decoration rarely awarded to one of Hitler's Gefreiter rank. He received the Black Wound Badge on 18 May 1918.
During his service at headquarters, Hitler pursued his artwork, drawing cartoons and instructions for an army newspaper. During the Battle of the Somme in October 1916, he was wounded in the left thigh when a shell exploded in the dispatch runners' dugout. Hitler spent almost two months in hospital at Beelitz, returning to his regiment on 5 March 1917. On 15 October 1918, he was temporarily blinded in a mustard gas attack and was hospitalised in Pasewalk. While there, Hitler learned of Germany's defeat, and—by his own account—upon receiving this news, he suffered a second bout of blindness.
Hitler described the war as "the greatest of all experiences", and was praised by his commanding officers for his bravery. His wartime experience reinforced his German patriotism and he was shocked by Germany's capitulation in November 1918. His bitterness over the collapse of the war effort began to shape his ideology. Like other German nationalists, he believed the Dolchstoßlegende (stab-in-the-back myth), which claimed that the German army, "undefeated in the field", had been "stabbed in the back" on the home front by civilian leaders, Jews, Marxists, and those who signed the armistice that ended the fighting later dubbed the "November criminals".
The Treaty of Versailles stipulated that Germany must relinquish several of its territories and demilitarise the Rhineland. The treaty imposed economic sanctions and levied heavy reparations on the country. Many Germans saw the treaty as an unjust humiliation—they especially objected to Article 231, which they interpreted as declaring Germany responsible for the war. The Versailles Treaty and the economic, social, and political conditions in Germany after the war were later exploited by Hitler for political gain. On 12 March 1938, Hitler announced the unification of Austria with Nazi Germany in the Anschluss. Hitler then turned his attention to the ethnic German population of the Sudetenland region of Czechoslovakia.
On 28–29 March 1938, Hitler held a series of secret meetings in Berlin with Konrad Henlein of the Sudeten German Party, the largest of the ethnic German parties of the Sudetenland. The men agreed that Henlein would demand increased autonomy for Sudeten Germans from the Czechoslovakian government, thus providing a pretext for German military action against Czechoslovakia. In April 1938 Henlein told the foreign minister of Hungary that "whatever the Czech government might offer, he would always raise still higher demands ... he wanted to sabotage an understanding by any means because this was the only method to blow up Czechoslovakia quickly". In private, Hitler considered the Sudeten issue unimportant; his real intention was a war of conquest against Czechoslovakia.
In April Hitler ordered the OKW to prepare for Fall Grün (Case Green), the code name for an invasion of Czechoslovakia. As a result of intense French and British diplomatic pressure, on 5 September Czechoslovakian President Edvard Beneš unveiled the "Fourth Plan" for constitutional reorganisation of his country, which agreed to most of Henlein's demands for Sudeten autonomy. Henlein's party responded to Beneš' offer by instigating a series of violent clashes with the Czechoslovakian police that led to the declaration of martial law in certain Sudeten districts. Germany was dependent on imported oil; a confrontation with Britain over the Czechoslovakian dispute could curtail Germany's oil supplies. This forced Hitler to call off Fall Grün, originally planned for 1 October 1938. On 29 September Hitler, Neville Chamberlain, Édouard Daladier, and Mussolini attended a one-day conference in Munich that led to the Munich Agreement, which handed over the Sudetenland districts to Germany.
Chamberlain was satisfied with the Munich conference, calling the outcome "peace for our time", while Hitler was angered about the missed opportunity for war in 1938 he expressed his disappointment in a speech on 9 October in Saarbrücken. In Hitler's view, the British-brokered peace, although favourable to the ostensible German demands, was a diplomatic defeat which spurred his intent of limiting British power to pave the way for the eastern expansion of Germany. As a result of the summit, Hitler was selected Time magazine's Man of the Year for 1938. In late 1938 and early 1939, the continuing economic crisis caused by rearmament forced Hitler to make major defence cuts. In his "Export or die" speech of 30 January 1939, he called for an economic offensive to increase German foreign exchange holdings to pay for raw materials such as high-grade iron needed for military weapons. On 15 March 1939, in violation of the Munich accord and possibly as a result of the deepening economic crisis requiring additional assets, Hitler ordered the Wehrmacht to invade Prague, and from Prague Castle he proclaimed Bohemia and Moravia a German protectorate.
Germany and the Battle of Berlin
By late 1944, both the Red Army and the Western Allies were advancing into Germany. Recognising the strength and determination of the Red Army, Hitler decided to use his remaining mobile reserves against the American and British troops, which he perceived as far weaker. On 16 December, he launched the Ardennes Offensive to incite disunity among the Western Allies and perhaps convince them to join his fight against the Soviets. The offensive failed after some temporary successes. With much of Germany in ruins in January 1945, Hitler spoke on the radio: "However grave as the crisis may be at this moment, it will, despite everything, be mastered by our unalterable will." Acting on his view that Germany's military failures meant it had forfeited its right to survive as a nation, Hitler ordered the destruction of all German industrial infrastructure before it could fall into Allied hands.[300] Minister for Armaments Albert Speer was entrusted with executing this scorched earth policy, but he secretly disobeyed the order. Hitler's hope to negotiate peace with the United States and Britain was encouraged by the death of US President Franklin D. Roosevelt on 12 April 1945, but contrary to his expectations, this caused no rift among the Allies.
On 20 April, his 56th birthday, Hitler made his last trip from the Führerbunker (Führer's shelter) to the surface. In the ruined garden of the Reich Chancellery, he awarded Iron Crosses to boy soldiers of the Hitler Youth, who were now fighting the Red Army at the front near Berlin. By 21 April, Georgy Zhukov's 1st Belorussian Front had broken through the defences of General Gotthard Heinrici's Army Group Vistula during the Battle of the Seelow Heights and advanced to the outskirts of Berlin. In denial about the dire situation, Hitler placed his hopes on the undermanned and under-equipped Armeeabteilung Steiner (Army Detachment Steiner), commanded by Waffen-SS General Felix Steiner. Hitler ordered Steiner to attack the northern flank of the salient, while the German Ninth Army was ordered to attack northward in a pincer attack.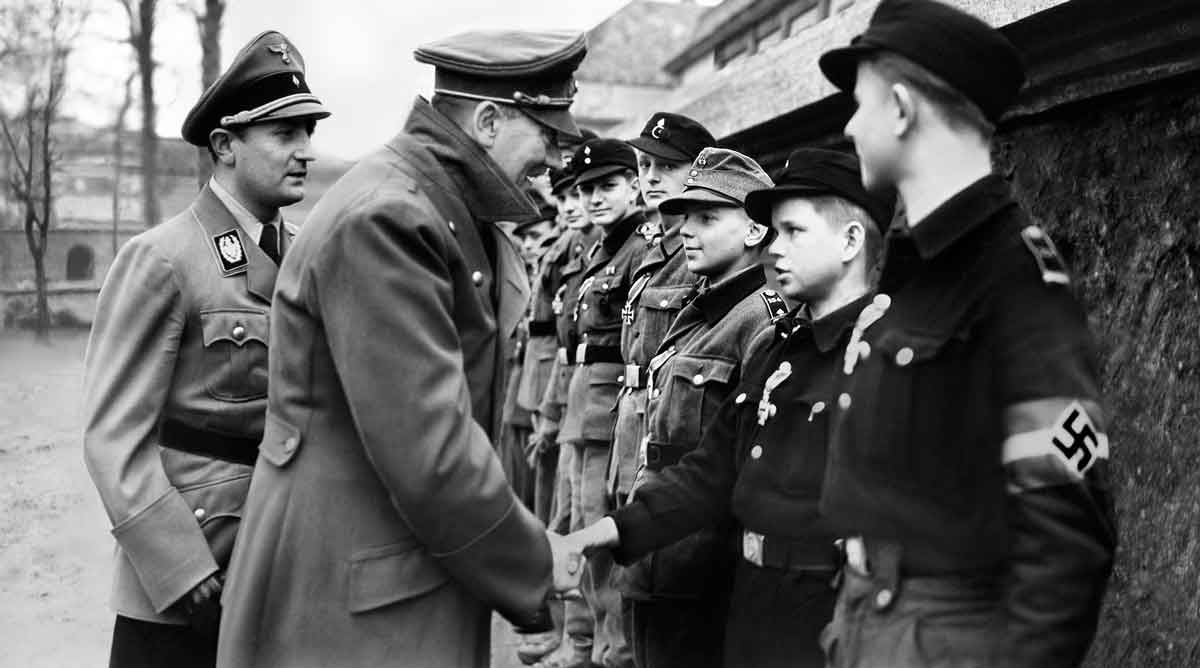 Hitler on 20 April 1945 in his last public appearance, in the garden of the Reich Chancellery, ten days before he and Eva Braun committed suicide.
During a military conference on 22 April, Hitler asked about Steiner's offensive. He was told that the attack had not been launched and that the Soviets had entered Berlin. Hitler asked everyone except Wilhelm Keitel, Alfred Jodl, Hans Krebs, and Wilhelm Burgdorf to leave the room, then launched into a tirade against the treachery and incompetence of his commanders, culminating in his declaration, for the first time, that "everything was lost". He announced that he would stay in Berlin until the end and then shoot himself.
By 23 April the Red Army had surrounded Berlin, and Goebbels made a proclamation urging its citizens to defend the city. That same day, Göring sent a telegram from Berchtesgaden, arguing that since Hitler was isolated in Berlin, Göring should assume leadership of Germany. Göring set a deadline, after which he would consider Hitler incapacitated. Hitler responded by having Göring arrested, and in his last will and testament of 29 April, he removed Göring from all government positions. On 28 April Hitler discovered that Himmler, who had left Berlin on 20 April, was trying to negotiate a surrender to the Western Allies. He ordered Himmler's arrest and had Hermann Fegelein (Himmler's SS representative at Hitler's HQ in Berlin) shot.
After midnight on the night of 28 - 29 April, Hitler married Eva Braun in a small civil ceremony in the Führerbunker. Later that afternoon, Hitler was informed that Mussolini had been executed by the Italian resistance movement on the previous day; this presumably increased his determination to commit suicide in order to avoid capture.
Death
On 30 April 1945, Soviet troops were within a few hundred meters of the Reich Chancellery when Hitler swallowed a cyanide pill and shot himself in the head and his wife Eva Braun bit into a cyanide capsule. Their bodies were carried outside to the garden behind the Reich Chancellery, where they were placed in a bomb crater, doused with petrol and set on fire. Kriegsmarine Grand Admiral Karl Dönitz and Joseph Goebbels assumed Hitler's roles as head of state and chancellor respectively.
On the evening of 1 May, Goebbels arranged for an SS dentist, Helmut Kunz, to inject his six children with morphine so that when they were unconscious, an ampule of cyanide could be then crushed in each of their mouths. According to Kunz's later testimony, he gave the children morphine injections but it was Magda Goebbels and SS-Obersturmbannführer Ludwig Stumpfegger, Hitler's personal doctor, who administered the cyanide. At around 20:30, Goebbels and Magda left the bunker and walked up to the garden of the Chancellery, where they killed themselves. There are several different accounts of this event. One account was that they each bit on a cyanide ampule near where Hitler had been buried and were given a coup de grâce immediately afterwards. Goebbels' SS adjutant Günther Schwägermann testified in 1948 that they walked ahead of him up the stairs and out into the Chancellery garden. He waited in the stairwell and heard the shots sound. Schwägermann then walked up the remaining stairs and, once outside, saw their lifeless bodies. Following Goebbels' prior order, Schwägermann had an SS soldier fire several shots into Goebbels' body, which did not move.
Records in the Soviet archives obtained after the fall of the Soviet Union state that the remains of Hitler, Braun, Joseph and Magda Goebbels, the six Goebbels children, General Hans Krebs, and Hitler's dogs were repeatedly buried and exhumed. On 4 April 1970, a Soviet KGB team used detailed burial charts to exhume five wooden boxes at the SMERSH facility in Magdeburg. The remains from the boxes were burned, crushed, and scattered into the Biederitz river, a tributary of the Elbe. According to legend, the corpses of Eva Braun and Adolf Hitler were fully burned when the Red Army found them and only a lower jaw with dental work could be identified as Hitler's remains.
Berlin unconditionally surrendered on 2 May 1945 to the Soviet forces
© Walter Frentz Collection with permission
Personal information
Braunau am Inn, Austria-Hungary
---
Highest achievement
Chancellor of Germany
Signature