In 1944, we were on standby, we were not allowed to leave our barracks, we knew something was about to happen very soon. On June 6, 1944 we boarded ships to cross the English Channel . I remember the smell of bread baking. The chaplain gave a sermon before embarking on our landing craft which held about 75 men. Our landing craft made a run for the beach in France . The channel was so rough with 5 ft waves coming over the craft. When we landed we followed a rope , hand over hand . The water so deep it came over the radio I carried in my hands and damaged it. Our artillery was still on the barges and they couldn't get close to shore because of the rough seas . I borrowed a radio from an Englishman so I could radio in our co-ordinates . We could see the Germans firing from church steeples . My position was forward observation.
I'm aware I've given you more than you asked for, but I'm so proud of my Dad. He just passed away last year at 99 years old. Story provided by Elmers' daughter Brenda.
---
Lester Schauer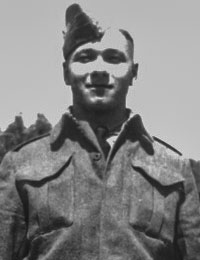 Elmer's brother Lester, did not survive the war as he got killed in Italy read his story here.